Just A Few of the Testimonies We Receive Daily
The Product is wonderful. Enjoying the natural clean shine and health to my hair.   Veleshia T
Love the smell, and texture of the grease. My baby hair has started to thicken. Will be buying again.   Jade S
My sisters grand-daughter had a perm and took her hair out in patches.  She used NuGRO and we saw results in about a month.  Nugro grew her hair down her back.  So I used it for my grand-daughter who had patches in her hair. NuGR) grew it back real fast!    Mrs Johnson, MS  (May 2 2021)

This product has been a lifesaver for me.  The moisturizer keeps my 4C hair moisturized for up to three days… That's unheard of!! Dominique, Dallas 
I didn't have any hair at all, now I have a Fro". I've never seen my hair grow this fast!       Carolyn B.  Lafayette, LA

I wanted my edges back... and it grew them all back.   Niki J
I had chemo in 2015 and lost my hair.  NU-GRO is the ONLY thing that grew my hair back.
Wow! It grew my hair so fast.   Ann, Palm Springs, FL
Oh my GOODNESS!  My hair hasn't been never, never, never been his soft.  I was just blown away.  I been natural 11 years.  I noticed a difference right away (using the moisturizer plus).         Geraldine A, Fresno, TX
I could never grow a beard until I started using NUGRO.  It would be scraggly with patches, and under my chin would not even grow.  IT WORKS!       J. Turner, Shreveport, LA

I lost 5 pounds in a week on the Slim Down challenge, and I didn't change my diet.  I've got PCOS but this works.  Collette, Atlanta GA

I noticed my girlfriends hair was really growing and asked her about it.  She told me she uses NU-GRO.  So I guess it works for white chicks too!!  Tony
CBD Oil: My wife had pain in her ankle.  She rubbed it on and the pain went away.  I tried it on my knee. Pain gone.  Tried on my hip. Pain gone.  I used to have trouble getting up off the couch... after using your CBD oil, i JUMPED up. I don't take pain med anymore.       Ron, Baton Rouge
I used the Hair-GRO Oil and I can see a difference in 6 days.  Amazing!,   Deborah, MS
As a child, I never had any hair.  Now, at 62, my hair is down to my shoulders!  My hair is really growing and I really, really love this stuff.    Rose

I really love NU-GRO moisturizer (spray)!  It keeps my hair soft and manageable.  Leshay W
I had 2 shiny bald spots.... Now the hair has grown back!     C. Davis, Tacoma WA
The Alkaline water.... this is the best tasting water since I came to America!   Rosemary B, Ocala, FL

Tyisha, Topeka Kansas
★★★★★
If you love your natural curly hair like I do then you'll so love these products.  The Total Care for Natural Hair System will keep those curls looking curly, shine and bouncy with no dryness and no frizz.You don't understand how glad I am since I found these products.  I've been a product junkie and watch videos.  I love everything about these products - I love the whole system.  NU-GRO does what it says it will do!  NU-GRO keeps my hair growing, full and healthy.  I have  naturally curly hair that needs moisturizers and oils, so I can't wash it every day.  But with this product (Moisturizer) you can wash it every 3 days and it keeps its shine!  When I use the products, my hair looks brand new.  It's so nice to find something that's perfect for the hair ... and fits everybody's income.
Brandon C.
★★★★★ 
Sheila J.  Bossier City, Louisiana
After chemo, my hair came back on top, but it was thin and fine.  With NU-GRO, it's growing and thickening up too!

Amazing
I thank God for this product & I have shared it with many people!
Rhodesia W.
I used the Hand Sanitizer and here are my words: Beautiful fragrance. Tactile and smooth. Absorbs nicely. Both hands and lower wrists are clean.  Non-Drying. Hands feel moisturized. Love Love it! Great Product.      Lesoir, Hayward CA
★★★★★
Great products
Great products
Courtney W.
★★★★★
Absolutely love it! I've. Even
Absolutely love it! I've. Even using it for a month and the results amazing. From completely bare to an inch and half of growth on my daughter
Rosemary B.
★★★★★
Best hair products
Because I love the product I purchase it for someone else. So that speak for itself. Really great products. I have purchase many different hair products brand in my lifetime but this is the best ever. I will be sticking with them. Rosemary.
Nastasja L.
★★★★★
My Gro Conditioner
I love love love this product

Mega Hair-Gro System for Fast Hair Growth (#1 Seller)
Talisha W.
★★★★★
I've had thin edges my
I've had thin edges my whole life and also some trouble spots. Using this whole system has made my hair thicker and has made hair grow in areas I thought would be gone forever. Will order again!!! Love it!!!

System: Moisturize, Maintain, Style & Grow Natural Hair
MONIQUE C.
★★★★★
Eggscellent
Deann C.
★★★★★
Great Buy!!!
The hair is great!!! The customer service was fantastic!!! Great store I will definitly purchase again.

The shaving gel and bump spray works... it stopped the bumps.  Fay, Shreveport, LA
Temiloluwa E.
★★★★★
Great products!!!
I have the Ayurvedic shampoo, deep conditioner and hair moisturizing spray and I can honestly say my hair has never been healthier. I have extremely kinky low porosity hair and I don't know what they put into these products, but even my notoriously stubborn hair is able to retain moisture from them! I will definitely be buying again.

Pretty Krissy ★★★★★
OMG !!!! Great products, I was struggling with my hair thinning, breakage, flaky scalp, and my hair was stringy for months. I started using the Nu-Gro Spray every single day and in just two weeks I started seeing improvement in my hair. My crown is a lot thicker, the nape of my neck never ever been this long. My flaky scalp is no longer flaky and its always moist now. No hair coming out after I comb or brush my hair. I just bought the whole system and used the shampoo and conditioner last weekend and I'm already in love with the results. Thank you I am going to continue to use these products, you have a new customer Nu-GRO.

My mother had breast cancer, kidney and liver issues, back pain and suffered from knee pain.  I gave her 3 gallons (12 liters) of Alkaline water for 1 week.  In a week, she was crying tears of joy.  "No pain!" she said, "I feel wonderful!".    Barbara, Houston TX
Hey....I just wanted to tell you that I'm in love with the conditioner. My tangles are melting away. Thank you so much!!!!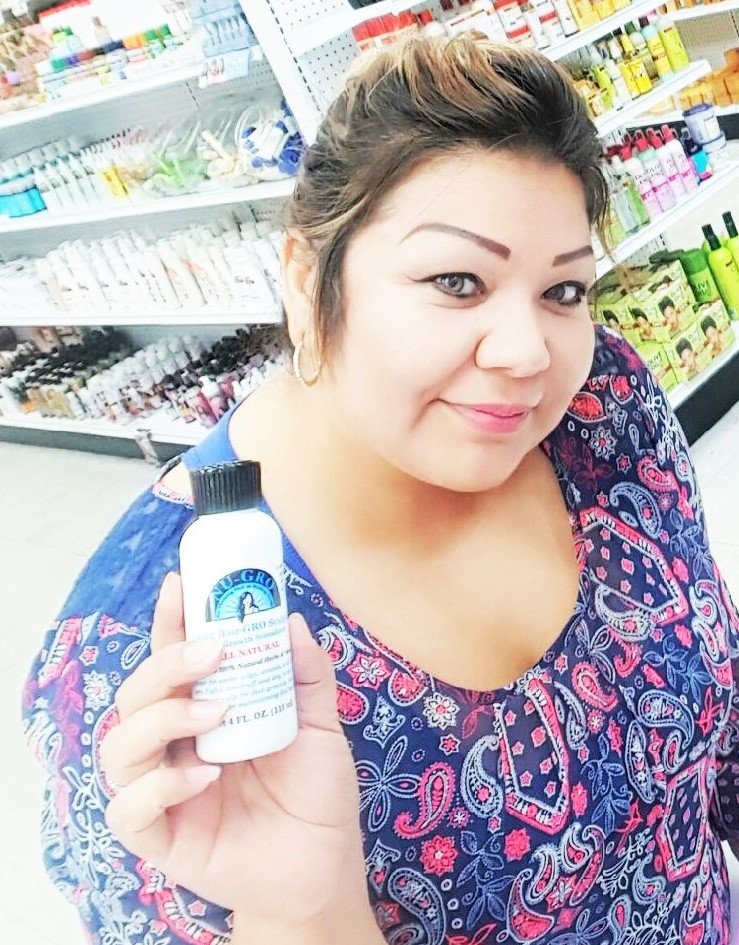 My hair was dry and the Liquid Hair-GRO oil is light enough for my hair!
I have never used anything that worked this good." Dave K., Shreveport, LA.
"It really works! I started using 2 times a week to oil my scalp. It made my hair grow. I'm still using it - it still makes my hair grow." Janie B., Baton Rouge
A perm took out my beautiful baby hair 25 years ago.  NU-GRO filled in my patches AND now I have baby hair again!!    Pam, Clarkson, GA

I'm seeing hair growth!!  I've seen a big difference in the last 4 months.     Doris, Goldsboro, NC

"Before I started using Nu-Gro I could not get my hair to grow. I was so scared at times to even comb my hair because it was falling out so bad the doctor told me it was because of my nerves I took medications for it and still nothing. I used to be so ashamed of my hair that sometimes I would wear a wig or I would use track hair just to give me the length that I wanted. I use everything from Rogaine to the doctor-prescribed medications and nothing helped. Until one day I went to this store, Buy and Save in Lake Charles and saw this product. I read the information on it so I just said why not, I've tried everything else, why not this? I used it for one week and I started to see a difference in my hair. My hair was not falling out like before and in a month my hair has grown a inch. Now after a year and half my hair is now about 12 inches long I don't have to worry about my hair falling out anymore. My hair finally has all the vitamins its needs to grow. Thank you very much for this product." Rosie, Beaumont, Texas
Hallelujah!  I was suffering with shingles, but after drinking the Alkaline water --- they just went away!   Niki, LA
I just wanted to say this is the best product I have ever put in my hair. It makes my hair and my daughter hair feel soft and clean .This is a wonderful product.    Lynesha Martin, Kansas City, KS
"Y'all have the best stuff!" O.G., Ft. Lauderdale, FL
"I am very satisfied with this product. I am completely satisfied", Gina, Shreveport, LA
I have used your products and I am thrilled at how it makes it easy to manage and defines my natural curls. I think it actually changed the texture of my hair! Kimberly J., Shreveport, LA
I love the nu-gro super hair gro oil. It is brilliant because it grew my hair a lot. And I love the way it tingles when it's applied to the scalp. Shanice H., Jackson MS

"I'm AMAZED at how much my hair grew" Ida, Baton Rouge, LA
"I love it!" A. Johnson, Hair Salon Owner, Shreveport, La
 "I had a bald spot in the back of my head, and it's covered completely. I also had some itching in my scalp, and NU-GRO cleared it up." R. E. California
"I can attest to this wonderful product. It has changed my hair to MORE HAIR. And my 9 year old daughter, who suffered from hair loss, it has grown her hair tremendously. My belief is that NU-GRO can help anyone who suffers from any hair losses. You've got to try this product and let it work for you." L. Waters, Shreveport, LA
"I had a brown spider bite and became bald in the middle of my head. The Doctor said that my hair would most likely NOT grow back. I used NU-GRO for about 3 weeks and I saw hair". Kaneshia E., Minden,LA
"I saw results immediately! My daughter's perm had broke off her hair. I sprayed on the NU-GRO and her hair changed overnight!" J, Houston, TX
"My hair had been cut really low and for the last 4 months I have been using NU-GRO and my hair is on my shoulders". F.C., Minden, LA
My husband had bald spots on his head and beard. Within a week they were gone!  Mrs Page, Shreveport
"I have always had problems with thin hair. After using NU-GRO... I noticed a thickness that I never had before. Needless to say I am very happy with my success with NU-GRO." Toni, California
"My sides were very thin, but when I started using NU-GRO, it took about a week and a half to grow back." A. White, Shreveport, LA
"My mother buys this in shreveport.. all her hair grew back. She was completely bald". Floyd, Mc Allen, TX
It's a great product! I use on all my kids. We all had thinning hair - now it is thickening. I'm telling you, my hair is thickening! When I used to take my braids out, I used to get a tip full of hair (coming out). Now, I have ALL my hair when I take my braids out.
Hello, My name is Ellen.  I also wanted to let you know I love the hair products. I have noticed my edges are getting thicker.  I am very pleased with the products....
I don't know what y'all got in this stuff, but my hair was short, now it's long again!   Gwen L., Jonesboro, LA
I could tell the difference after a day!  It has a good scent and I can wear it with my perfume.. It's not overpowering.   Tina W., Brentwood, NY

The bump spray works like magic.  It gets rid of bumps faster than anything I've ever used.  Donnie G, Shreveport, LA
About that Slimming Oil, my stomach was Bulge Bulge, now its Flat Flat.  Oh yes, I had yeast infection every day since 1979.  But, 3 months ago, when I started using NU-SLIM, it hasn't come back.  I have lupus, and my skin is usually like sandpaper - but the NU-SLIM keeps it moisturized!  By the way, my hair has grown so much from the spray!     Vicky K., Kings Mountain, NC

NU-GRO has really, really grown my hair!  I got my natural hair back, and now I don't use anything but NU-GRO.              E. Johnson, Birmingham AL
After the 2nd day of using the Moisturizing spray - I had little to no shedding!  It works!      Monique (Like the comedienne), Houston, TX

My hair went from the bottom of my ear to past my collarbone in less than 4 months.  I couldn't believe anything could grow my hair this fast.  Before, my hair was at a standstill and I used to wear wigs a lot.  Now I don't have to wear wigs.  And my 5 year old daughter used to scratch her head like crazy and her scalp was red.  Since I started using NU-GRO on her, she doesn't even scratch anymore.  I used EVERYTHING, even what the pediatrician said, but nothing worked but NU-GRO.  Now her scalp is healthy with no red bumps.  Her hair is is down her back too.     Delores O., Houston, TX

"There is no product that grows hair as well as NU-GRO... It's
phenomenal
!"     Lakesha H., Houston TX

"My hair's been growing like mad!! "    Barbara J., Dallas TX

All the products smell better than before!         Khalil B,  Atlanta GA

My cousin was bald, now her hair is back on her head in 2 weeks!  My God-child's hair has grown down her back and is healthier and thicker than what it was before!            Pat W, Franklinton LA

Thank you for the awesome customer service. Nu gro really values their customers...
TIFFANY      W. Palm Beach, FL

It transformed my hair as soon as I used it!!  OMG My hair was so nappy, coarse and thick -- It became so soft and relaxed.  OMG        Vertise A, Newark NJ

My hair is growing back!  I put a prem in it August 1,2014 and it took all my hair out around the side. I'M GLAD I START USING NU-GRO IT IS SO GOOD!  Thank yall for the good stuff!     Gladys     (Ordered on 9/4/14 - wrote us 9/12/14)
My friend cut her hair so short, she couldn't even wear a ponytail.  Now, in just 1 year, it's all the way down her back using NU-GRO!      Nicole B.     Hawaii

Thank you, I love your product!  Used on my baby since she was 8 months. Now she's almost 3 and have beautiful hair.    Iris,   Brooklyn, NY

I have been using Nu-Gro Hair-Gro Pomade and I have notice about two inch of hair growth in less than 1 and 1/2 months        Raina

Thank you NU-GRO. I suffered from areata alopecia about four years and had bald areas on my scalp. I started with the natural kit and saw a difference in the first few weeks. After about two months all the bald areas had almost completely filled in. I use the natural kit on my kids hair and it made their hair very soft and manageable.   Lit 

I must say the product is true to it's word,it will grow your hair out.  My

hair has grown 8 inches

people and I'm so pleased.      Sunshine
I LOVE it!  It did AMAZING to my hair!  My hair was THIN, THIN.  It thickened my hair back up AND every little bald spot.           Pastor Washington, Dallas, TX
That Baby Spray is a miracle!  It detangled my girl's hair.   And, NU-GRO grew my hair so long in a short period of time.          Fredericka C., Harford, CT
Temple Balm gives my hair a glossy look, but its not real greasy.  I don't have to wash the heaviness out as with all the other stuff.   Doesn't stain seat or headrest.  Doesn't have a strong fragrance.  Because of NU-GRO, my cousin hasn't needed a perm for 6 months.  
Deloris M., Lynchburg, VA
The first time I used the shampoo, there was an IMMEDIATE difference.  Hair is now thick and pretty.  I love the product.  Tracey W., Buffalo NY
My hair's not shedding anymore!  The conditioner is AWESOME, and my itchy scalp is gone.    Rena M.,  Shreveport, LA
I cut off the hair in my "kitchen", then used NU-GRO.  My hair is growing EVERYWHERE.  Its long again.  At my age, I'm surprised.  I love your products!   Dorothy T., Covington, GA
Your product really works!  My daughter was bald, and she has hair now.  Its growing all over!      Shenelle M., Hartford, CT
My grand-daughters hair was to hers ears and not too thick.  After 6 months of using the Spray w/Moisturizer, I saw her and I was FLOORED!  Her hair is now so thick!  And its grown past her shoulders!!  Nobody in the family has hair that thick.  Barbara, DC
NU-GRO is Very, Very Good!!!  I use it and my baby uses it.  We see a BIG improvement.  What I  like about it - it works FAST.    Marcia L, North Miami, FL
My daughter's hair was messed up with a Quick-Weave.  NU-GRO grew it back into a ponytail, and grew back her edges too!  It works Fast and Quick!      Robin F. and daughter, Gabrielle,  Metro Atlanta
It stopped the shedding in my hair.My husband's scalp was red and itching, and his head was full of dandruff.  He used NU-GRO shampoo and it ALL stopped.  I can't believe it!   Tanja, Shreveport, LA
 I started using NU-GRO at the end of January, I am AMAZED at how much my hair has grown.  I took my twists down and NO SHEDDING!  My husband was amazed at how much it grew!     Dionne D., Athens, GA  (Ordered Jan 22nd, 2013, Called Feb 6th)
I called to tell you I LOVE NU-GRO!  My daughters hair was short after surgery.  I used the SUPER on her for 3 months, and now, her hair is longer than her sisters.  We're ALL using NU-GRO now.    M. Jackson,  Shreveport, LA
I've been using it a few days and already I can see growth.  It's working very good!   Devina, Monroe, LA
My edges had gotten so thin I was embarrassed to go out.  After using NU-GRO, within a week, I saw hair growing.  In 2 weeks, I wasn't embarrassed to go out anymore.  It definitely does work!       Patricia E.,  South Mills, NC
The first time I washed my hair with NU-GRO, it made it soft and easy to comb.  I've used a lot of products in my life, but this is the best I've ever had.        Mary R,  Minden, Louisiana
My hair has thickened up and it is really long.  My hair is natural, but people think I have a perm.  I cannot describe how beautiful my hair is now.  NU-GRO has changed my hair texture.  I am so fascinated by this product. My friends are in awe of how long my hair is.     Barbara,  Tallahassee, FL
For the first time in years, I wore my hair without a ponytail or wig!  I feel GOOD about myself!  My hair LOOKS good and healthy.  I am so proud of my hair.  I started using NU-GRO LAST MONTH.  This product DOES work!  My friends hair is to her shoulders!    Pauline A, Jacksonville, FL
My sides were really messed up, and my hair had come out.  I figured my hair was gone and that it was no hope.  But MY HAIR STARTED GROWING THE SAME WEEK that I started using NU-GRO.  Now, its growing, its soft, its moist, its shiny and healthy... just like you said. I am very pleased with it!      Dorothy H., Los Angeles, CA
"After 3 weeks, my hair filled out where the balding was! I highly recommend NU-GRO to anyone dealing with any form of baldness." S. Blalock, Beauty College Director, Louisiana
You just have no idea how THICK its making my hair! I can go weeks with no perm - and its still makes my hair look really healthy. Its been 6 months since I had a perm. My husband said "Baby, is your hair getting longer?". My son used the baby products and his hair is sprouting like weeds!! Monique S., Garfield Heights, OH
I walked into Sunny Beauty in Jonesboro, GA.  I was asking the  Lord "I need someting for my hair!".  My hair was broken and shedding badly.  It was thin and I had bald spots.  It shed so bad, I was scared to comb it.  I had already been to 5 dermatologist, and they wanted me to try something that wasn't natural.  My faith kicked in and I prayed in the store.  I wanted something natural.  Then I looked and saw NU-GRO.  Since I've been using this product, it instantly stopped my shedding.  My hair got fuller, thicker and my texture has changed.  I just LOVE IT!  It brought a change on my granddaughter and my neice.  I really love it.          Barbara McD of Hampton, GA
I'm natural  and have a hard time finding a product to keep my hair soft and manageable.  NU-GRO keeps it soft and manageable.    When I use your roduct, I can pin my hair up the way I want - NO PROBLEM!  I had been thinking about going back to Relaxers.  I'm on medication and my sides had thinned out.  I picked up NU-GRO, opened it,
OMG, they changed the fragrance!!  I love the smell! 

  (I had used it before, but you could smell the garlic).  Now, when I braid my hair, or do 2-String Twist, and take it down, the Curl-Definition is there - and it stays there all day.    Annette P., NC
Since I started using NU-GRO, I don't have issues with dandruff anymore.  My scalp is not dry at all.... I used to scratch all the time.    Marlaina W.,  SC
Its already repaired the damage I had from hair dying, and I've only been using it about a week.   Tikylah D, Pittsburg, PA
All the products grew our hair rapidly.  I love the way it smells. Its been a blessing to my daughter and I.  I get Kinky twists or presses, and the Leave-In  conditioner makes my hair manageable, soft, relaxed and my hair combs out easy.  Tammy, Tyler, TX
"I was bald for the last 20 years. I used to wear a hair piece for several years. After using NU-GRO for two weeks, I could see hair starting to grow. I have been using NU-GRO for several weeks now and I can really see hair growing all over my head. I guarantee NU-GRO is better than any other product on the market." R.B. West Virginia
That stuff has done WONDERS for me.  My hair was actually breaking - OMG, its made such a difference.      Kathy G, Lake Havasu, Arizona

It really made my temples come back good.        Mrs. D. Lockett, DE

This stuff works MAGIC!  My daughters hair grew back in 3 weeks.  It grew quick, quick, quick.  I tell you, that stuff WORKS!!                  Dorothy, Los Angeles, CA
It smells good!  And it grew my baby's hair.   Nicole K., Los Angeles, CA

"I've been using the Olive Oil hair oil, and my hair is down to my bra. I recommended this product to my sister and my mom". Carla
I just can't believe my hair stopped falling out. I'm in love with it! My Customers love it! Adrianna J., New Orleans, LA
Glue from quick-weave took out all my daughers edges. We tried NU-GRO and 1 week later her hair had started coming back. I didn't believe it! It does what it says. Mrs. Linda, Missouri City, TX
I had to stop using it - it made my hair grow too fast and I needed too many haircuts. Gladys husband, Jacksonville, Florida
OMG, I LOVE your products! It did a lot of improving in my hair. Rosemary B. Seaford, DE
"My hair was Thick and Nappy.... Now its Thick, Straight and Soft" S. Williams, Lehigh Acres, FL
"Its growing my my hair real fast". Frankie W., Greenville, NC
OMG!, My edges are AWESONE. NU-GRO did magic. First week, some hair, 2nd week more hair, 3rd week a LOT of hair. My edges are now FABULOUS. Cheri D., Shreveport, LA
I have twin babies and their hair started thinning.  I got the Baby NU-GRO, now, they got hair all over the place!! I am very, very satisfied!! I love it!! (I was very skeptical, and I am very, very picky). Angela C., St George, SC
I want to commend you on your products. My hair is super, super thick! I am Very, Very, Very enthused with NU-GRO! Carla G.
It grew my daughters hair in less than 2 weeks. Her hair was to the top of her head, now its in the middle of her head. Darlene B, Bethlehem, PA
I ❤ your products. They are amazing. Hannah, Flint MI
I never had anything grow my hair like this. I spent over $1,000 on stuff, but this is the only thing that worked. B. Hopkins, Detroit, MI
My hair is Super, Super thick and its growing back on the sides too. Carla, Rayville, LA
Wow, my hair is really growing I found something that works!! Jean, Harker Heights, Texas
My hair has never been this soft since I was a baby... and it has thickened up. Barbara, NJ
Thank you so much, because surprisingly enough the VERY FIRST time I used your conditioner...I noticed a considerable difference in the hair loss when I rinsed my hair. I praise God for this!! Christina, Oregon.
My hair was dull and dry, but NU-GRO brought my hair back alive. It has a pretty texture and a pretty shine. For years my hair wouldn't grow for nothing. NU-GRO really made it grow. Don't need a perm anymore. Looks like I got good hair! Ruby, Montgomery, AL
I've been struggling with a condition called Trichotillomania for over 15 years. I became so bald on the top of my scalp that I thought my hair would never grow back. It's been about a month and a half of using NU-GRO Shampoo & Conditioner, Hair-GRO Oil and Oil-Free spray. I just looked in the mirror at my scalp for the first time in over a month and I can't believe it - THE HAIR GREW BACK!! I can't even tell where my hair was thin. Thank you NU-GRO! You're Awesome! Darby F, Towson, MD.
As soon as I washed my hair it felt different super soft and didn't feel like other shampoos and conditioners. I can comb my hair when its wet... Never could do that before like this because it felt like it was ripping my hair but now its great so Happy so far can't wait to see how long it gets in the next few months an also love how lite the hair gro oil is Thanks NU-GRO:-)..... Tiff E., PA
I SUPER LOVE IT!!! My hair felt good with your original shampoo, cleans gently without making my hair feeling stripped, then i applied the condish, It made my hair feel like soft butter, no greasy afterfeel, I super love it. Marthy, Hawaii
I have used your Shampoo, Conditioner, Spray and Temple Balm and I can't believe how my hair has grown since my chemotherapy. I am ordering the shampoo for my husband and the eyelash extender for me. Thank you for making my life after cancer easier. Mrs. Gomez, Apple Valley, CA
Works wonderful on LOC'd hair!  Filled in my hair and thickened my roots. I'm very pleased with the product. Cindy, Portsmouth, VA
I just started using your products about a month ago and really love them. Thanks to you I finally stopped dreading washing my hair. Your Shampoo and Conditioner is great! Thank you also for the Baby Gro Oil. My 7 month old daughter was born with a head full of hair which started thinning from laying on her back. At around 6 months we started using your products and her hair looks and feels great, not to mention she's gotten many compliments on how her hair is growing. Thank you for your great products! R. V. Alexandria, VA
"My hair has been off my head since 1983..... It started growing when I started using NU-GRO." Joyce, MI
"For the 1st time, I washed my hair - and could actually COMB it! I've NEVER been able to wash my hair and comb it out" Kimberly, houston, TX
"This is the ONLY product that I can truthfully say has helped my hair". Sandra, Milwaukee
I am very impressed with your products! I've recently been diagnosed with a mild case of hypothyroid and my hair started to shed. By using your products along with taking medication I have seen a big difference with my hair! After about 2 weeks my hair is thicker and more healthy, plus the shedding stopped! I'm gonna continue using nu gro since the results are amazing! Your staff is wonderful and very professional on the telephone too! Keep up the excellent customer service!     S. M. Lawson
I love this product and recommend it to everyone and anyone I know. My hair was so damaged, that it was visibly balding in front. I was really scared, and didn't know what to do, and was afraid that very soon I'd be completely bald, and have to wear wigs all the time. Then, miraculously, I saw a video on utube recommending your hair growth products. I saw all the testimonials and videos and was moved to place an order, and I am SO glad I did. After a couple of weeks of use, I noticed a distinct difference in the texture and strength of my hair, and within a month, the front of my hair had filled in. Several months later, my hair is completely turned around, all thanks to your amazing products. I'm getting ready to order from you again, and I just had to comment on how much you've changed my hair and my life. Thank you, thank you, thank you so much! Toni M.
I absolutely love your products. My hair has grown about 2 inches in a month. I have to send you photos. Thank you, Thank you and Thank you.
Lisa Chappell
"I have been using NU-GRO for 2 weeks and I can see some hair on my sides. It's been years since I've seen that". Darnissa T., Minden LA
"It stopped my daughter's hair from shedding! I am 100% impressed". C.P.. Shreveport
"I use the shampoo and conditioner on my horses mane and tail. It makes em soft, and the tail goes "flying in the wind". Paula V., Shreveport, LA